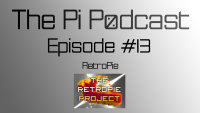 The Raspberry Pi show The Pi Podcast did an interview with me and two other members of the RetroPie team for Episode #13. Big thanks to them for inviting us on the show.
I was a little nervous before the interview, but it turned out fine – they did some good editing 🙂
If you own a Raspberry Pi or are thinking of getting one, then you should definitely check it out. They release a new show roughly every two weeks, with Raspberry Pi related news, chat and interesting interviews. It is professionally produced, and hosted by three knowledgeable and friendly Raspberry Pi enthusiasts.